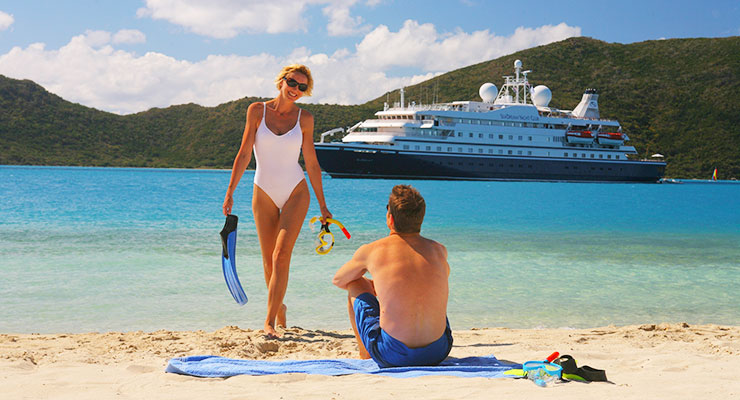 The Irish Travel Agents Association (ITAA) has recently published the results of its latest quarterly members' survey, which showed that Cruise Holidays are becoming the top travel trend for 2017.
Travel agents across the country reported a significant upsurge in holidays at sea and all their attractions, such as multiple destinations, luxury accommodation, and a wide range of facilities on board.
The travel agents also reported that Irish holidaymakers are also showing trends of booking their holidays earlier than normal to be sure of the break and dates they want, and are also willing to spend that little bit more on their holiday to make sure it all goes perfectly.
If you're considering a cruise holiday yourself, we heartily recommend it, as life on the sea is a fantastic way to spend a week or two, whether it's the Mediterranean, the Caribbean, or anywhere else.
Remember however to make sure that your travel insurance covers you for all the extra potential hazards of a cruise holiday. With Insuremyholiday.ie, that's easily done, as Cruise Travel Insurance is available as an easy add-on to all our Single Trip Travel Insurance and Annual Multi Trip Travel Insurance policies.
The added benefits of Cruise Travel Insurance include:
Missed cruise departure (i.e. if a flight delay en route causes you to miss the start of your cruise)

Delayed departure due to weather or technical reasons

Cabin confinement compensation (if unable to leave your cabin due to illness or other reasons)

Missed shore compensation (if illness prevents you from going ashore at a scheduled stop)

Cruise itinerary change compensation (if there is a significant change at short notice)

'Stranded ashore' cover (if you miss a departure from a stop along the way)

Medical emergency evacuation cover (e.g. helicopter transfer from ship to hospital)
Remember, they're all in addition to our standard travel insurance policy benefits:
Round-the-clock medical assistance hotline, 365 days per year
Lost, stolen, or damaged baggage cover, up to €3,000 per person
Emergency medical and/or transportation cover, up to €10 million per person
Luggage loss/delay insurance
Flight cancellation/delay insurance
Personal accident insurance
Third party personal liability insurance
Cruise Travel Insurance is available from as little as €3.66 in addition to the cost of your standard Single Trip Travel Insurance or Annual Multi Trip Travel Insurance policy.
---
That's a small price to pay for the added peace of mind you'll get so you can enjoy your holiday fully.
GET A QUOTE NOW
Get a quote now, and simply tick 'Cruise Travel Insurance' as an extra. Then you'll be all set for life at sea!