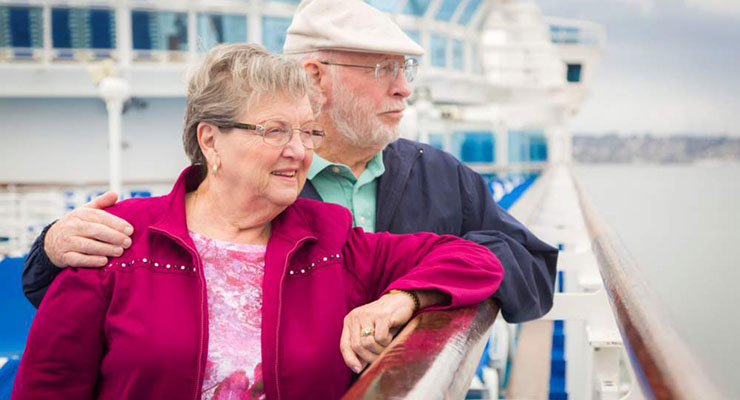 Cruise holidays are continuing to become increasingly popular with Irish people, particularly with those who have already reached middle age or their golden years. So our blog on five tips for older people on cruise holidays is a must read.
The prospect of waking up somewhere new every day is an attractive one, as is the idea of having all facilities close on hand at all times while you travel. Cruise holidays are also a fantastic way to make new friends, as you can be sure of seeing people time and time again – unlike a city break, for example, where the prospects are remote of again meeting the same people you enjoyed chatting to yesterday.
Planning and preparing for a cruise holiday is a little different than preparing for a land-based one, however, and there are certain things that older people in particular should be mindful of. These include:
1 – It's best to book early
If you book early, there's a much higher chance of being able to secure a cabin close to the ship's facilities you will use the most, such as the dining area. This can make a big difference over the course of a holiday to an older person with mobility issues.
2 – Communicate with cruise staff
Let them know at the start of the cruise of any relevant health issues, so they will know how best to help you if the need arises.
3 – Bring extra medication
If taking prescription medication, be sure to bring not just enough for the scheduled duration of your cruise, but some extra too. While it's unlikely that the cruise itself will run over time, you may be glad of the surplus if you miss your flight home again or are otherwise delayed.
4 – Don't overdo it!
The great attraction of cruises is that they are designed to be relaxing. So don't over-extend yourself while ashore, and choose only the excursions and activities that will suit you. Similarly, if on an all-inclusive cruise, it may be tempting to try eat and drink as much as possible. But remember your digestive system is not 21 years old anymore either! So again, stick to what you know you can handle.
5 – Make sure you have travel insurance
Comprehensive Travel Insurance can make all the difference to your welfare and your peace of mind if something happens to go wrong during your cruise. It can cover the cost of repatriation in the event of a medical emergency, or help if other things go wrong  and you need to rebook flights or hotel rooms. Travel Insurance is especially recommended for seniors who are more likely to experience medical issues during their holiday, and who perhaps wouldn't feel comfortable or confident in dealing with them as they arise, instead of having a contingency plan in place before they travel.
---
Travel insurance can sometimes be hard to secure for older people, particularly those aged over 75, but with Insuremyholiday.ie it is not a problem.
We provide Single Trip Travel Insurance and annual Multi-Trip Travel Insurance for people up to age of 85. Benefits of our Travel Insurance for Over 65s, Over 70s, and Over 75s include:
Round-the-clock medical assistance hotline, 365 days per year
Lost, stolen, or damaged baggage cover, up to €3,000
Emergency medical and/or transportation cover, up to €10 million
Cancellation cover, up to €3,000
Personal money and documents cover, up to €2,000
For cruise holidays, our add-on Cruise Travel Insurance includes these extra benefits:
Missed cruise departure (i.e. if a flight delay en route causes you to miss the start of your cruise)
Delayed departure due to weather or technical reasons
Cabin confinement compensation (if unable to leave your cabin due to illness or other reasons)
Missed shore compensation (if illness prevents you from going ashore at a scheduled stop)
Cruise itinerary change compensation (if there is a significant change at short notice)
'Stranded ashore' cover (if you miss a departure from a stop along the way)
Medical emergency evacuation cover (e.g. helicopter transfer from ship to hospital)
They're all great reasons to choose Insuremyholiday.ie as your Travel Insurance provider. Get a quote now to see the great value it can be!