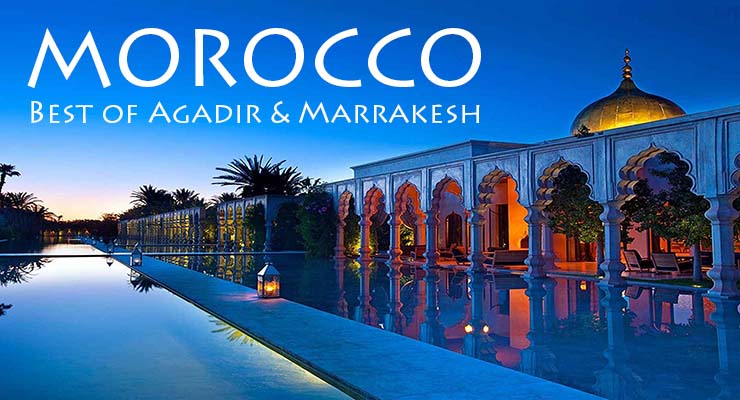 Ever thought about Morocco as a holiday destination? It's closer to Ireland than The Canary Islands, but it's a world apart. Its North African Arab culture is a fascinating experience, it offers great value, and you can have either a beach or a city holiday with direct flights from Ireland.
Agadir is by far the most popular beach resort, and great news is that there are now year-round direct scheduled flights from Dublin there with Air Arabia. Fares start at just €69 each way.
Previously, Agadir could mainly only be reached direct as part of a package holiday, but the new scheduled flights bring the option of putting together a DIY trip. Just book the flights and choose your accommodation separately – anything from a cheap AirBnB to a luxury hotel.
Meanwhile, Ryanair can take you directly to the marvellous city of Marrakesh. You can grab a fare as low as €58 if you're quick, but expect to pay between €80 and €100 each way for most flights. Again, these flights are all year round.
So, what to do when you get there? We've put together a short guide to highlights of both Agadir and Marrakesh.
---
Highlights of Agadir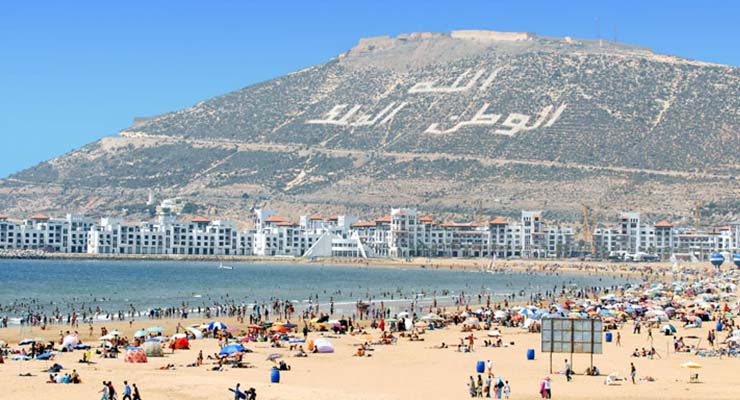 1 – The Beach
This is the main reason for being here, after all. Agadir's main beach stretches for miles, and attracts tourists from all over Europe. It's also where Moroccans tend to go for their own holidays.
The strip has countless hotels and other facilities, including cafés and restaurants to suit all tastes and budgets. Agadir is also a renowned centre for both surfing and windsurfing. Give one or the other – or both! – a try if you're feeling adventurous. There's also a beautiful marina and a wonderful promenade for walking.
2 – Souk El Had d'Agadir
Agadir's main souk (market) is actually the largest indoor souk in the world. Locals use it to buy meat, fruit, and vegetables – tourists use it to buy all sorts of souvenirs. There's local crafts, clothing, wonderful herbs and spices, and much more. Be prepared to haggle – it's all part of the fun!
3 – Agadir Kasbah
The 16th century Agadir Kasbah is the remains of the fortified structure that once defended the town. They're by far the oldest ruins in the area, since an earthquake destroyed much of Agadir in 1960, and flattened all other historic buildings. It's free to visit, and there's a great 360-degree view of the area from there too.
The main downside is that local hawkers there can be very pushy. Learn to say 'no' strongly and firmly. They'll get the message after you say it four or five times!
4 – See Nile crocodiles – far from the Nile!
Crocoparc is a new wildlife reserve, just 14km from Agadir. It's home to many Nile crocodiles, which were once common in Morocco (despite being far from the Nile!) but which were hunted to the point of extinction. You can see these much-feared beasts up close…feeding time is a real spectacle! The park also features a great selection of other North African flora and fauna. It's a great way to spend half a day or more.
5 – Get active in Paradise Valley
Another great location close to Agadir is Paradise Valley, which really is paradise if you love the outdoors.
There are great hikes through rolling mountains, and many inviting pools to swim in. Beautiful views provide plentiful photo opportunities. A few well-located rest areas provide refreshments and other creature comforts too. An enjoyable day will go by here before you know it.
---
Highlights of Marrakesh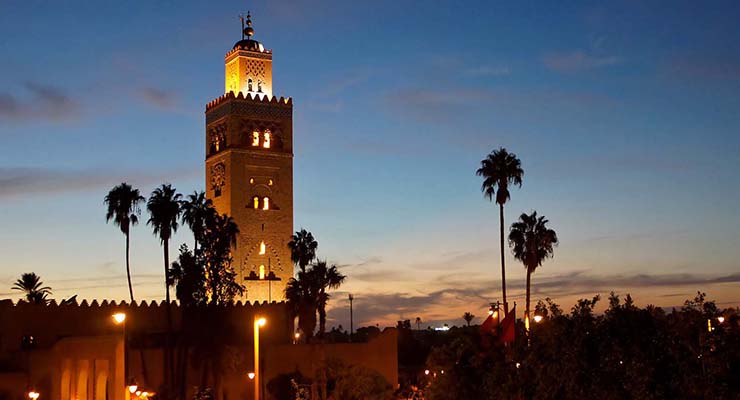 1 – Koutobia Mosque
This is the most famous landmark in Marrakesh. It towers 70 metres tall and has stood since 1162, making it one of the great achievements of North African architecture.
Non-Muslims are not allowed into the Mosque itself, but even walking its perimeter is a memorable experience. You can still take tours and learn about its fabled history. This includes the story that when the mosque was first built, the muezzin (the man who sounds the call the prayer) had to be blind, as the minaret was so tall that it overlooked the local sultan's harem of concubines. You couldn't have a peeping Tom while calling people to pray!
2 – Shop 'til you drop
The shopping experience is central to any trip to Marrakesh. You'll find bazaars and souks throughout the city, with many concentrated in the old city centre itself.
Among classic local souvenirs are djellaba robes, spices, babouches (Moroccan slippers), old carpets and colorful ceramics.
As in Agadir, be prepared to haggle! Cut the original asking price in half, and go from there. You'll usually end up agreeing a price around three-quarters of what the trader first wanted.
3 – The cuisine
Dining in Marrakesh can be as weird and wonderful as you want it to be. Common choices are tajines (think stews) and tanjias (meat dishes cooked in ceramic pots for at least six hours). The more adventurous can try snails…and even sheep's heads!
Couscous is the staple accompaniment to any meal, though you can usually get rice or potatoes too. Expect everything to be flavoured with a wonderful array of spices.
4 – Get a stranger to give you a bath
Bathing in a traditional hamman (public bath) is common in Marrakesh and other Moroccan cities too. It's also common to have somebody else bathe you!
Getting a scrub from a stranger may sound odd, but it's an essential part of the cultural experience. Hamman options go all the way from what's basically the equivalent of a swimming pool shower, up to a luxury spa. And yes, you can keep your modesty intact if you want to!
5 – Marvel at the wonders of the past
All round Marrakesh, there are wonderful historic buildings to explore. These include the Bahia Palace, built 200 years ago for Sultan Moulay al-Hassan I. There's Badi Palace, now in ruins, but you can still marvel at the sheer expanse of it. There's the 12th century Almoravid Kobba, which is Morocco's oldest monument. Climbing the stairs inside is not for the nervous!
You can even see the grandeur that some were afforded after death, in the 16th century Saadian tombs. These house the remains of 66 members of the dynasty that ruled from 1524 to 1668. The ornate marble and intricate tiling shows incredible levels of craftsmanship.
---
Travel insurance for Morocco
If you decide to head for Morocco this year, don't forget to take out travel insurance for your trip.
A policy with Insuremyholiday.ie entitles you to great cover for a great price. Choose single trip travel insurance for your holiday, or annual multi-trip travel insurance, if you're likely to do more travelling in the coming year too.
Whatever policy you choose with Insuremyholiday.ie, you get a high standard of cover at a low price.
Key benefits of our Gold Plan travel insurance
Medical Expenses Cover of €5 Million
Personal Luggage Cover of €2,000
Personal Money and Documents Cover of €1,600
Delayed Departure Cover of €200
Cancellation or Curtailment Cover of €4,000
Abandonment Cover of €4,000
Missed Departure Cover of €500
Personal Accident Cover of €55,000
Personal Liability Cover of €2,000,000
Third Party Supplier Insolvency Cover of €2,000
Schedule Airline Failure Cover of €1,000
Legal Expenses Cover of €10,000
Hijack Cover of €1,000
Catastrophe Cover of €750
Credit or Cash Card Fraud Cover of €300
Key benefits of our Platinum Plan travel insurance
Medical Expenses Cover of €10 Million
Personal Luggage Cover of €3,000
Personal Money and Documents Cover of €2,000
Delayed Departure Cover of €400
Cancellation or Curtailment Cover of €6,000
Abandonment Cover of €6,000
Missed Departure Cover of €600
Personal Accident Cover of €95,000
Personal Liability Cover of €2,000,000
Third Party Supplier Insolvency Cover of €2,000
Schedule Airline Failure Cover of €2,000
Legal Expenses Cover of €20,000
Hijack Cover of €2,000
Catastrophe Cover of €1,000
Credit or Cash Card Fraud Cover of €500
All are as generous or more generous as you will find with any other travel insurance provider, so it all adds up to even more great reasons to choose Insuremyholiday.ie for all your travel insurance needs.
Just get a travel insurance quote now to see how much you can save!