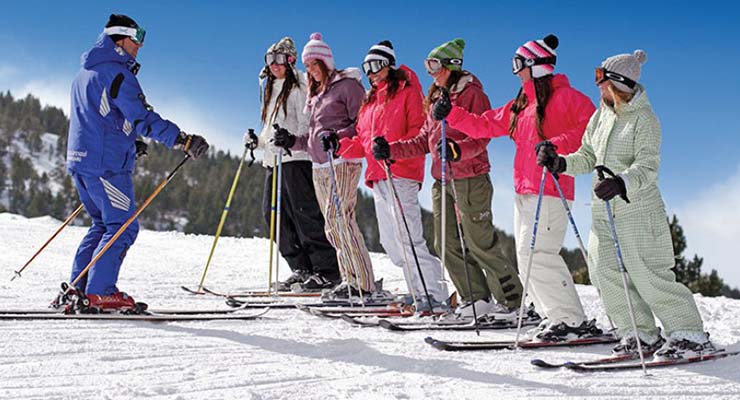 Winter is here. In Ireland, that typically means grey skies and gloomy, rainy days – but just a few hours' flying time away, there's pristine snow, blue skies, and a whole wealth of possibilities if you fancy a skiing holiday.
But where exactly to go? Well, chances are that if you're Irish, you'll want somewhere suitable for beginners, even if you've been skiing before. So, over the next few weeks, we'll bring you a series of suggestions. We're starting with some of the best ski resorts for beginners in France.
---
1 – La Plagne
The name will be familiar to cycling fans, as La Plagne regularly features as a stage finish in the Tour de France. But it's as a ski resort that it's best known.
La Plagne is actually a collection of small villages, each with its own distinct feel. The entire area has lots of long, gentle, tree-lined runs, graded for beginner and intermediate skiers. It is also very family friendly, with lots of other activities for children.
The heart of the resort is Plagne Centre. Accommodation is relatively limited here, but it's where the majority of the shops, restaurants and bars are. Check out the nearby resorts of Plagne Soleil, Plagne Villages and Plage Aime 2000 for loding to suit all budgets.
Fly to: Geneva or Lyon
Transfer time: Geneva – approx. 3 hrs 30 mins. Lyon – approx. 3 hrs 30 mins.
---
2 – Chamrousse
Chamroussse is perfect for a first-time family ski holiday. It has a variety of beginner and nursery slopes, suitable for all abilities. There's also a designated children's ski area, with challenges such as 'ski cross' and 'time trap'. It's all set up to let people of all ages get the most from their time on the snow!
There's a good selection of restaurants, but in keeping with the family theme, bars are relatively limited. The resort also has a well-stocked supermarket – particularly useful if you're in self-catering accommodation.
Fly to: Geneva
Transfer time: Approx. 2 hrs.
---
3 – Alpe d'Huez
Another places whose name will be familiar to cycling fans! Alpe d'Huez is renowned for sun as well as snow. That may seem like a contradiction for those of us used to Irish weather, but you are almost guaranteed blue skies, crisp air, and bright days, to let the whole family make the most of your holiday.
This is one of the biggest ski resorts in France, so skiers of all abilities are well catered for. There's also a huge variety of other facilities – including an outdoor swimming pool (brrr!) and skating rink. With regard to food and drink, there's something to suit all tastes and budget.
Fly to: Lyon or Geneva
Transfer time: Lyon – approx. 2 hrs. Geneva – approx. 2 hrs 45 mins.
---
4 – La Clusaz
La Clusaz is in the northern part of the French Alps and is a little more 'upmarket' than our other suggestions in terms of facilities – and that means it's a little pricier too.
Still, if you've got the cash to splash on a premium ski holiday, you could hardly do better. The village itself is fairytale pretty, with a traditional church and dainty, boutique shops. Five nearby slopes provide ski runs for all abilities, and the famous Mont Blanc makes a spectacular backdrop to it all.
There's an incredible 53 beginner runs there, so there's lots of variety as you learn. There are separate areas for beginner snowboarders, so why not give that a go too!
Fly to: Geneva
Transfer time: Approx 1 hr 15 mins.
---
5 – La Rosière
Bang on the border with Italy, La Rosière is most popular with families and first-timers. And its location means that even a beginner can truthfully say they skied all the way from one country to another, as you can start in France and end up in Italy – or vice versa – in even just a couple of meters!
There's a popular floodlit Alpine forest walk for when you're not skiing, and other facilities for children too. Be prepared for self-catering accommodation, as La Rosière is not particularly well served by hotels.
Fly to: Lyon or Geneva
Transfer time: Lyon – approx. 2 hrs 30 mins. Geneva – approx. 2 hrs 45 mins.
---
Related posts
If you've enjoyed our advice on best ski resorts for beginners in France, you may also be interested in these posts:
---
When looking for your travel insurance for a family ski holiday, look no further than us at Insuremyholiday.ie – because when you take out your insurance with us, your children go free!*
Just get a quote for you and your partner, and add your children's details as well. They'll be added to your policy, but nothing will be added to your price. And then prepare for a great time away!
Winter Sports Travel Insurance from Insuremyholiday.ie delivers you all the following benefits:
Winter sports equipment cover (up to €600)
Hire of replacement equipment (up to €500)
Avalanche/landslide cover (up to €750)
Piste closure cover (up to €750)
Other inability to ski cover (up to €500)
Round-the-clock medical assistance hotline, 365 days per year
Lost, stolen, or damaged baggage cover, up to €3,000 per person
Emergency medical and/or transportation cover, up to €10 million per person
Luggage loss/delay insurance
Flight cancellation/delay insurance
Personal accident insurance
Third party personal liability insurance
A policy from us gives you the peace of mind you'll need to enjoy your ski holiday to the max. Get a quote now!